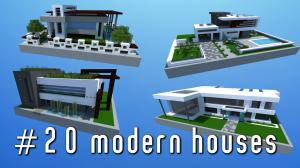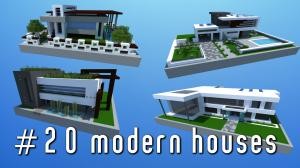 Not working? Click here to download the map directly.
Another Server-Member called RealTecMC and me decided to upload a few houses here from both of our Server-Maps. He's a member on my Server but he's also got his own world, sometimes we build and make videos together.
This is an empty map without any ground or anything else. You'll find 20 houses in the air. So you can do anything else you want with this map. Some of my houses are old, built a few years ago, so don't criticize me, there was no chance to build it more modern.
More Information:
If you wanna stay up to date with this Project, like it and wanna support me, you can follow and subscribe me on:
On PMC you can find each of this 20 modern houses in a separate upload with all pictures.
Also you can take a look at the Channel by RealTecMC here. Don't be surprised, he's german ;)
Created by DaxMatic & DaxesMC & RealTecMC
Download map 20 Modern Houses Pack
---
---