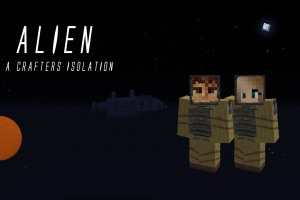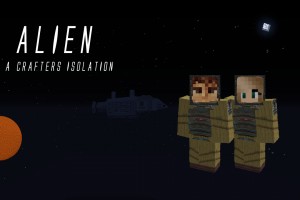 Map Info:
How scary can Minecraft be? Just in time for Halloween this map is based on the gameplay style of the recently released Alien Isolation and features single player or up to 2 player co-op action, Custom Animated textures, Custom Sound effects, a dynamic alien that hunts you down and Advanced 1.8 command block features (Thanks Mojang).
I would just like to thank again the Minecraft and YouTube community, if it wasn't for you this map would have ever been made so Thank you for being the awesome community you are.
Features Breakdown:
Single Player or up to 2 player Co-op.
Animated Custom Resource pack ("Texture pack").
Custom Sounds (A lot).
Working Motion tracker.
Custom Mobs.
A Dynamic Alien (Unpredictable).
40min-1 hour of Gameplay.
No Mods are required for this map; it runs with completely Vanilla Minecraft however it does require use of the resource packs included in the download.
INSTALLATION:
It's simple just copy the Alien: A Crafters Isolation map to your Minecraft saves folder, just like normal.
Then copy over our resource pack located in the download file. You have a choice of HD and SD (HD is 256 and SD is 64, Trust me when I say you want the HD pack!J)
WARNING YOU MUST USE THE CUSTOM RESOURCE PACK! DONT WORRY IT COMES IN THE SINGLE DOWNLOAD!
enable-command-block=true
CommandBlockOutput - false
doMobSpawning - false
keepInventory - true
mobGriefing – false
Lastly If you would like to keep up to date with the progress of Payday 3 A Gamers Christmas Adventure map or would like to know how this map works check out our new site dedicated to Minecraft adventure map tutorials and building resources HERE.
If you find any bugs please leave a comment so I can fix em. Thanks!
Also, if you make a YouTube video please leave a quick link so I can check it out! It means a lot to me seeing people enjoying my map.
Programs Used:
Chunky - Thanks to nrub. Makes it look spectacular.
McEdit - Thanks to the creators for making such a great program.
SethBlingsMcEdit Filters - Thanks for being you Seth.
NBT Edit - Thanks to copyboy That program saved me.
TooManyItems - Thanks Marglyph Been using this program since it started.
Mumbo Jumbo: for his awesome Redstone tutorials!
Dragnoz: For his awesome command block and redstone tutorials!