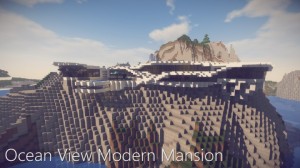 Welcome to this Ocean View Modern Mansion! This is by far my most prolific, inventive I've built so far! It definitely towers above the rest of my modern mansions which tended to be very simple. I've also noticed that it resembles Tony Stark's mansion (which is kind of what I was going for). This is my first time trying to use a wavy kind of style like this one, I hope you enjoy it!
Welcome to your own private mansion! Your one time payment get away from the rest of society! Because nobody needs people! Filled with an extensive amount of things to do! Never get bored, and we mean NEVER. Take a swim in your swimming pool with a glass bottom (any injuries and/or causes of death are not applicable to BlueBowtie Mansions inc.)! Don't like the pool? Try the beach! Hungry for some gourmet stake? Come into the kitchen and have a nice sizzling whatever you want! Take a drink in your own private bar, or read a good book on a convenient pedestal! Get bored of the mansion itself? We have a solution for that too! Take an exhilarating ride in your own private HELICOPTER, or relax next to a pond and watch a waterfall! For the first time ever in the history of BlueBowtie Mansions inc, you can play tennis! Oh, and of course, IT HAS A WORKING SHOWER! That's right a working shower! All of this for the low low price of $729,999,999.99!!! (Or just download the map... also an option...)
Download link is above, please note that the map will likely be called "Cliff Side Ocean-" So don't fret if you can't find the map in your downloads directory! Make sure to leave a suggestion in the comments below! If for whatever reason the download link doesn't work click here. 
***This map is intended for Minecraft versions 1.14 and above! It is not recommended to play in any earlier versions!***
***Please download the required texture pack! Note: optifine may or may not be required!***
Screenshots