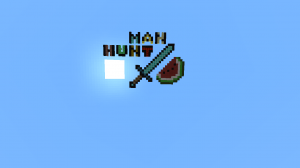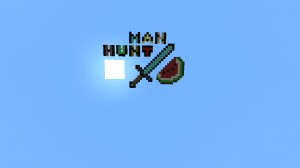 Map Info:
You have probably played MAN Hunt, whether you realize it or not. If you haven't, you probably grew up under a rock.
Concept:
There is one person who is it, and everyone else is not. The 'It' has a diamond sword (insta' death, You're It Moe Suckra', etc). The goal of the It is to kill everyone. When the it kills someone, they become It and get a sword and everything. The people who are it need to work together to kill everyone else, and the 'Not-Its' need to work together to survive.  
Here comes the twist though. All Non-Its have melons, which they can use to teleport through walls. Every time they teleport, they get one gold. This gold can be used to buy armor, potions (speed, regen, damage), and sticks with knockback. Every second of this game is very exciting!
Features:
- A pleasant spawn to hang out at.
- Awesome arena with 11 "biomes" to play in.
- Item shop.
- Unique meleportation system.
Thanks to the guys from R&R Gaming for all their help re-vamping the spawn and the arena! It looks truly epic!
Notes:
If you record a video for youtube, post a comment on this video with a link or send me an email at
[email protected]
. I would like to see it!
This map has not been tested yet. It will only work with minecraft version 1.7 or higher.
Feel free to report any bugs below.
Enjoy!
P.S. Check out my YouTube Channel!