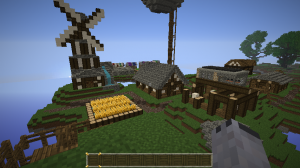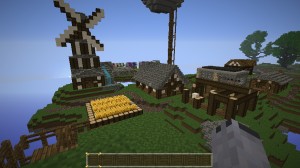 Map Info:
This is an
adventure RPG minecraft map
. It's fairly large, with
5 biome skylands
. There is a main quest and several minor quests.
It can be played with 1-5 players. You can do more, but people wouldn't get the equipment needed to survive in the last area.
It's fully playable in adventure mode, driven by villager quests and exploration.
No mods required.
Note that the map starts a little slow. The first two quests are designed to get you familiar with the town and exploration. After that, it gets real and you start the real RPG.
FEATURES-
-5 floating biomes, each one with armored mobs that are progressively more difficult than the last.
-Villager trading to upgrade your items
-5 dungeons, 4 of which have a boss battle at the end many landmarks in each biome, complete with a geared mob spawner and a chest with money
-A main quests and minor quests given by villagers
-The story isn't actually that great, but hopefully the gameplay is good enough to distract from that.
-GAMEPLAY OVERVIEW-
Slay monsters and return their drops to the city to trade for money. Use the money to upgrade your gear and buy enchantments. Money can also be obtained in small landmarks throughout the biomes and as a reward for side quests. Move forward in the main quest by completing the mage's tasks and braving dangerous dungeons. The fate of the skylands is in your hands.
Oh, and there are loads of classic and modern video game references in this.
Download map Amidst the Clouds
---
---