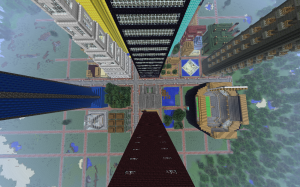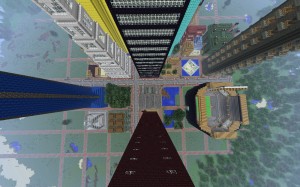 Hello everyone, welcome to the newly updated version of Metropolis, version 3.0
I would like to thank everyone for all the wonderful support and the emails & comments as well.  This map is becoming a huge success and the support motivates me to create more buildings, expand the city, and come up with new and innovative ideas that have never been attempted before.
For those of you who have been following version 1.0 and 2.0, the new version 3.0 has undergone some major changes including: complete city lighting system with street lights as well as torches everywhere so at night you can make your way around better.
I have built a new school and library, expanded the sewer system, designed 5 new office buildings, a 5 story parking garage (for all of those minecarts), as well as a number of other surprises that you'll just have to discover as you journey through the city.
I would like to make clear to everyone that the only mod I have used for this map is Rei's minimap, which is how I came up with the advanced navigational system using signs and detailed coordinate/directional information. Also, I want to make clear, I have not used any programs to design this, I have laid every block out by hand.
If you like what you see, please comment on this page with compliments, criticisms and ideas for v4.0  Also you can find me on Spartan MC survival server as 'poncharelli.'
Thanks and enjoy!