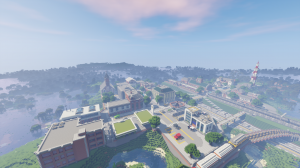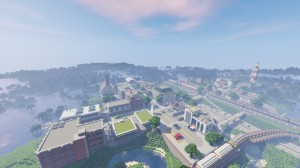 PLEASE READ THE FOLLOWING BEFORE ASKING ANY QUESTION IN THE COMMENTS:
The item frames saying "Monitor 1: No input signal" are screens of different kinds, mostly computers or TV's.
You are allowed to redistribute the map any way you want as long as the credit goes to me and links back to this page.
The map is vanilla, but it looks good with shaders. The use of texture packs may change the look, both ways.
There is an apocalyptic version of this map, download it here! (These two maps will be updated with the same new areas)
The file is large as I create my worlds in default (Sorry for that inconvenience)
This map, along with the apocalyptic version, will most likely be the focus of my work.
Version 2! Whats new;
Extended highway and railroad
Industrial area: A container port and an oil refinery
Two ships, one oil tanker and one container ship
Warehouse
Prison
Scaldon Medical Research Facility (this plays a more important role in the apocalypse)
More surrounding houses
And then the old features:
Town hall
Church
Hospital
Fire- and police department
Gas station
Train station
Elementary School
Cafè
Restaurant
Offices
Fitness center
Flower shop
Grocery store
Electronic store
Residential area
Antenna
Farms
Wood export site
Two highways with a tunnel and an intersection
Highway construction site
There will most likely be added a new and more "normal" city in one of the future versions, but this is all there is for now.
Leave a comment if you got feedback, or want to see a special location in a future version! In addition, check out my own website: EXPmaps.
I hope you enjoy the map!
Screenshots