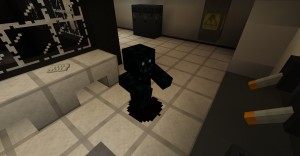 Welcome to recreation of SCP: Containment Breach in Minecraft. Try to escape as a Class-D Personel from dangerous SCP Facility, which is currently on Containment Breach, because something went wrong. Run away from dangerous SCP subjects and from armed facility personel.
Map contains every SCP subject present in Containment Breach version 1.3.11 + removed ones, resource pack which is integral with map, most of the game mechanics and over 5800 Command Blocks! No mods required!
Map is on version 1.12.2 and was created by 2 people (Patkal and ___fizz___), the whole process of creation took 8 months and the map was tested by 15 people, including YouTubers, such as Battleforge and CavemanFilms.
We hope you'll enjoy our project and we wish you a lot of fun playing our map, we really worked hard for this and this is our final product (most likely).
For any questions join our
Discord
.
Thank you all for support :D
Screenshots
Download map SCP: Blocktainment Breach
---