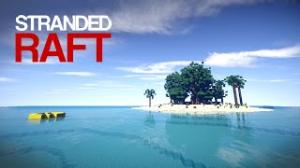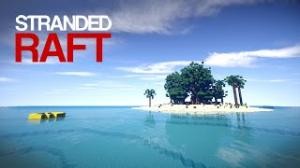 Map Info:
You find yourself stranded on a raft floating somewhere in the Pacific Ocean. To stay alive, the most important is to provide yourself of basic necessities: Water, food, thermoregulation, shelter, the ability to think straight, to navigate safely and to avoid unpleasant and possibly fatal interactions with animals.
This survival map uses some of the new features of minecraft 1.8 to implement a survival realist experience. You can die of hypothermia in this map or being dehydrated. 
Thermoregulation:
Cold increases being outdoors during the rain, being outdoors during the night or being in the water without a boat. Cold can cause hypothermia and death. It decreases during the day, being near a fire or eating mushroom stew.
Water:
The Thirst increases every second and with the intake of bread and cookies. It decreases with the intake of water, water melon or apples.
Shelter:
Being under a roof can help to control Cold during the night or during the rain.
Food:
The Hunger increases when running or jumping. It decreases eating a variety of foods, but some foods like raw meat can cause food poisoning.
Challenges:
Build a shelter.
Make a fire.
Make charcoal.
Craft a glass bottle.
Make a wheat farm.
Craft a boat.
Make a melon farm.
Make a potato farm.
Make a carrot farm.
Make a sugar canes farm.
Make a pumpkin farm.
Craft a map.
Build a barn near the shelter.
Craft 5 hay bales and put them into the barn.
Find a wet sponge and dry it.
Craft a fishing rod and use it to catch a fish of each type.
Craft a bow and arrows.
Craft a jukebox and find 7 music discs.
Craft all types of stained clay.
Extend the island with sand.
Build docks.
Build a lighthouse.
Craft a golden apple.
Craft 10 health potions.
Craft a bookshelf.
Craft an anvil.
Texturepack:
http://bdcraft.net/purebdcraft-minecraft
Shaders mod:
http://www.minecraftforum.net/forums/mapping-and-modding/minecraft-mods/1286604-shaders-mod-updated-by-karyonix
Shaders:
http://www.minecraftforum.net/forums/mapping-and-modding/minecraft-mods/1280299-sonic-ethers-unbelievable-shaders-v10-1
How to install shaders:
https://www.youtube.com/watch?v=B7u4ENIi3cU
Download map Stranded Raft
---
---