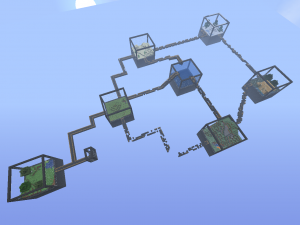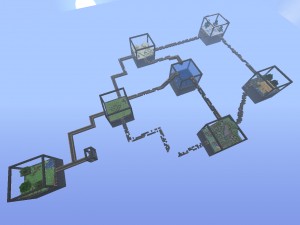 Map Info:
The concept is simple - there are 7 different cube biomes, each containing hidden chests filled with goodies and two obsidian blocks that will allow you to build the Portal to travel to Hell and destroy the Book of the Damned. Each cube biome has a different danger level, so be careful when adventuring into one. Once you feel very well prepared, you may embark into your final journey into Hell. For more information, read the provided Quest book in the chest.
PLEASE read the IMPORTANT NOTICES at the bottom of the description.
The map was designed mostly for one player as the resources are scarce, and must be searched thoroughly in all the biomes. As a word of advice, it is recommended that you go exploring during daytime.
Cube Survival has been updated on 2 December 2013. The updated version comes with a few challenges, as they follow:
build yourself a cozy shelter in a cube at your choice;
create a cobblestone generator;
own a full set of diamond armor;
find the hidden cake in one of the cubes;
gain obsidian by yourself;
build an enchantment table and brewing stand;
enchant an item of your choice and brew a drink of your choice;
create a wheat, melon and sugar cane farm.
CHANGELOG (thanks everyone for the feedback so I could make the map better):
reduced the number of enchanted apples;
removed pig spawner from the first cube;
adjusted the difficulty of the second cube;
diamonds removed from the first cube;
fixed the witch spawning;
removed some of the emergnecy supplies from nether
added fire in nether;
added many more spawners in nether because some players had no mobs in nether;
reworked the Book hall;
added challenges;
Overall, the game should be a bit harder now, but still playable.
IMPORTANT NOTICE: If you plan on playing in multiplayer YOU MUST DELETE your old world_nether, otherwise the Hell on this map will not work. Also, the Portal MUST be built in the Portal island, located just ahead of the Forest biome, the one you spawn in. The spawn is set in the Forest biome (the one containing 3 trees and many signs). If you happen to spawn in the wrong location, either find the forest biome or kill yourself to spawn in the correct location. 
IMPORTANT NOTICE2: If the game happens to be creative when loading it for the first time, please press Esc on the keyboard and select OPEN TO LAN. From there, choose survival and save the settings.
I hope you'll enjoy the map!
Download map Cube Survival
---
---