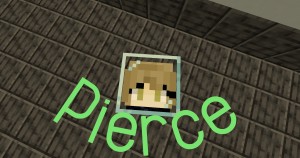 Play game
Play map
This creation took about a whole week to make.
Solve puzzles (not really)
Escape dying
Pierce has unique gameplay and absolutely no parkour.
If you're looking to play Minecraft in a completely different way, keep looking. This isn't that good actually.
Despite that, play it.
Want to make a video about this map? Go ahead! I need to bug fix it and you'll help with that!
Absolutely nothing bad happens in this map relating to:
Death
Stab
Poke with fork
Scary smile 
PEAL EVENT OBJECT
Screenshots