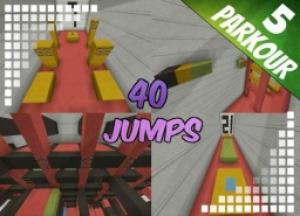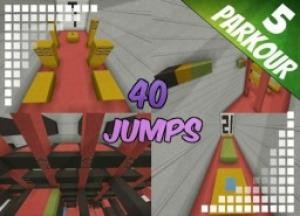 Map Info:
40 Jumps is a challenging single-player parkour map, made for minecraft 1.8. It features 40 individual levels of parkour that you can progress through. The map will also track your total completion time.
Features:
40 awesome levels.
A system that records your time.
Before You Play:
Make sure you are playing on 1.8.
If playing on a server, turn command blocks on.
The Youtuber Rule:
40 Jumps is meant to be a challenging, short parkour map. To keep it interesting, make sure that if you record this for Youtube that you nominate 1-3 other youtubers to beat your time!
My Twitter:
twitter.com/5uperTrinity
My YouTube Channel:
youtube.com/5uperTrinity
My Website:
5uperTrinity.com