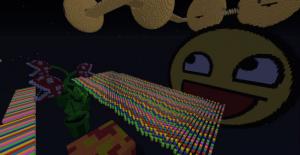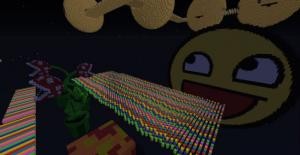 Map Info:
Have you ever played the magical game(s) known as Mario Kart? If not chances are you know someone who has. Personally I grew up spending my summers obsessed with being the best ever at it. I can remember attempting to memorize every short cut and little trick to play the game as flawless as possible (sadly that never happened lol).
The one map that always put a stop to my "dream" of being the best was the notorious tracks known as Rainbow Road. Rainbow Road is mostly known for being the most crazy and hard to control tracks mainly due to its lack of railing along the side. Combine that with extreme speeds makes it very easy to lose control and fly off the road.
Recently I have been going back to my "childhood" games and that is sorta my inspiration for this map. I have attempted to create the same feel as Rainbow Road (No Railings + Speed Boost x10). Combine that with my "Sillyness" factor and you have yourself "Extreme_RainBow_Road_MC-Edition".
As always I have set up a DeathCounter for you to keep track of your fails. As well as a Checkpoint System (gold pressure plates) to keep you happy and to continue to make progress.
This map must be played in version 1.8+ (1.8.1 Is strongly advised).
Enter /scoreboard players reset DGLCraft in-game if you want to remove the map maker from the DeathCounter.