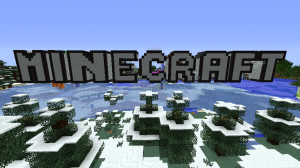 Map Info:
This is a minecraft parkour course. The levels are set inside each letter of minecraft (see screenshot). You do NOT jump across the top of them. There is at least one room inside each of the letters!
There are 10 levels of parkour, along with a final level, The King's Level. (which is why the "T" is not shown)
It gets harder and harder as you go along.
The Levels:
Level 1:

White Room
Level 2:

Orange Room
Level 3:

Green Room
Level 4:

Red Room
Level 5: Black Room
Level 6:

Yellow Room
Level 7:

Pink Room
Level 8:

Brown Room
Level 9:

Dark Gray Room
Level 10:

Blue Room
Last:

King's Level
Rules:
-Play in Adventure or Survival Mode.
-You cannot break blocks, however, you CAN press buttons, flick levers, etc.
-You can only place blocks found in chests.
-I think it's possible to play on Easy or harder, but I would recommend Peaceful.
-Have fun!
I cannot keep you from breaking the rules, but I'm just saying, it's not very fun if you do.
If there are any bugs, please leave a comment on here.
100% of the jumps are possible. If you know where you're jumping isn't possible, then you're jumping in the wrong place.
This should work with any mods. If it doesn't, or if there is a problem with it with no mods, please say so.
Original Thread (more content on map):
http://www.minecraftforum.net/topic/1871703-161-minecraft-word-parkour/
Thank you for downloading! Have fun!
-Cheezbergur11