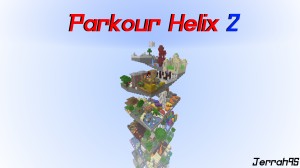 Welcome to the second installment of everyone's favorite sort-of-helix-shaped parkour map, Parkour Helix 2! This time, the levels are much bigger and longer. There are a total of 60 levels, just like last time.
If you are unfamiliar with the first Parkour Helix, don't worry, because all you need to do is finish all 60 levels and make it to the top of the helix. Along the way, you can discover hidden shortcuts that can cut down on your time. Speedrunners can use these to their advantage.
Diamond blocks act as checkpoints and will save your progress. Water and lava will kill you, so make sure to avoid them as much as you can.
As for rules, just don't cheat and keep the difficulty on peaceful. Playing with friends will guarantee a more enjoyable experience!
That's all I got, enjoy!
For the checkpoints, I used TheblueMan003's Checkpoint & Timer Datapack. If you want to download it, click the link here. Many thanks to him!
Screenshots