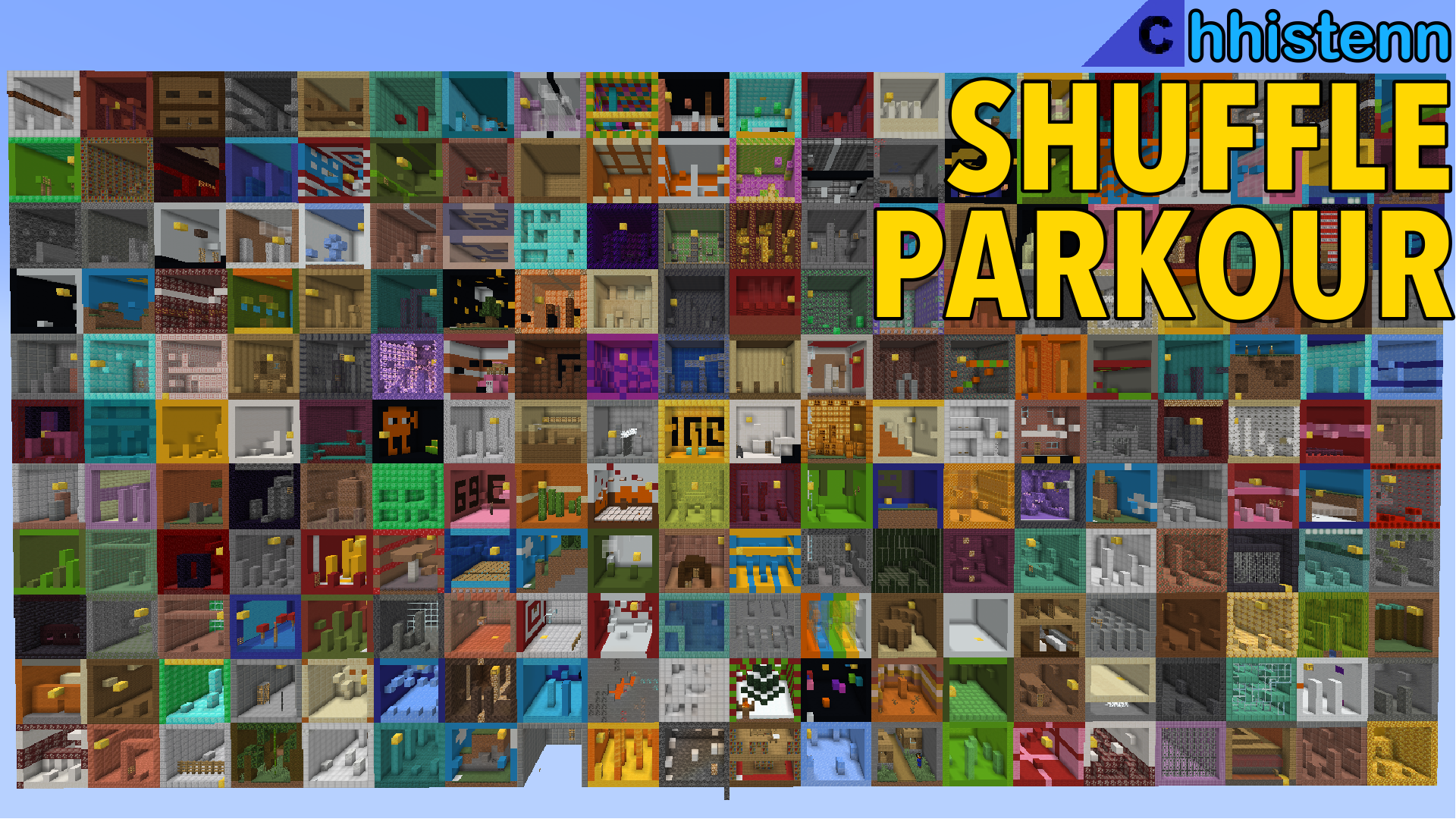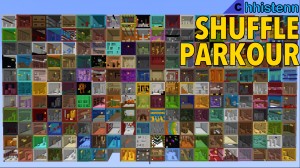 Shuffle Parkour is a race-themed parkour/minigame Minecraft map in which every time you complete a stage, you are then teleported to a random other stage, so the order you play each game in will be different every time, and you never know what you're gonna get. You can either complete as many stages as you can before the time runs out, or the first to 25 or 50 stages wins the game.
In the picture above, you can see the "wall" of stages. As of now, there are 222 different stages you can possibly get. Most of them are parkour, however there are a few mazes, puzzles, a find the button one, and I also added in a quiz stage, to make each playthrough unique and refreshing.
This map is both singleplayer and multiplayer compatible. You can play by yourself or with others. If you play with others, there is a large variety of multiplayer options, such as Mario Kart-style items to mess with each other. Everyone also has the glowing effect so you can see where everyone is. When Minecraft updates to future versions (1.18.2, 1.19, etc), I will update this.
Extras
I HIGHLY recommend that you visit the Extras hallway. There are 4 extra settings: Skip Levels, Enable Music, Enable Items, and Anti-Cheat. The Skip Levels setting is already on by default, where you can skip levels you don't like by casting the fishing rod (but it'll cost you a point). You can also listen to the Pigstep disc while you play, and you can prevent people from going into creative. If you enable items, you will receive 2 items every 4 stages you complete, where 1 will benefit you, 1 will hurt others. You can only choose one, and you use an item by dropping it.
You can also end a game at any time. To end a game, all players need to agree on it by dropping the firework they'll receive. You can cancel it at any time, as well.
If you find any bugs or glitches, please let me know. Thank you for playing and have fun!
~Chhistenn
Screenshots