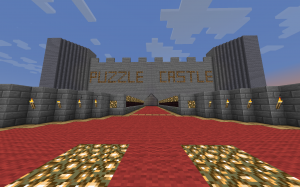 Map Info:
Puzzle Castle: A challenging puzzle map that will test your intellect, problem-solving skills, and Minecraft know-how! Each room is its own puzzle, and they get progressively more challenging as you move on. Do you have what it takes to conquer the Puzzle Castle?
See more information and tell me what you think on its Minecraft Projects page.
Rules:
1. Play on Easy.
2. No mods or other such nonsense!
3. Follow the instructions on signs. The rules change a little for different puzzles.
4. Always think "outside the box" - your creativity is your best friend in puzzle maps!
5. Have fun and enjoy the puzzles!
Download map Puzzle Castle
---
---