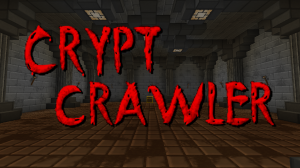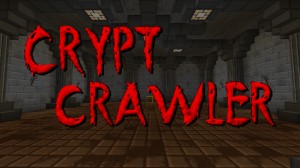 ▶Trailer◀
▶Important Information◀
If you are recording this map for YouTube please provide the following information in the video description (copy and paste if you want):
Map Title: Crypt Crawler
Map Author: NateT_Bird
Map Download: http://www.minecraftmaps.com/game-maps/crypt-crawler
▶Map Description◀
Crypt Crawler is a hack and slash dungeon crawler made for vanilla Minecraft v1.8.8. Fight your way through the vast dungeon. Kill monsters to gain treasure and experience. Level up to become even stronger. Find valuable loot in chests scattered throughout the dungeon. Buy powerful items and supplies from the shops. Avoid traps and monsters as you make your way to the end of the dungeon. Defeat the final boss to gain victory.
All the important settings and other information is available through the map. Just make sure you read the in game instructions carefully.
▶Map Features◀
Custom textures and models
Customized monster drops
Fully customized items
Money system
Clickable signs and text
Difficulty selection
Locked chests
Gates and keys
Spike Traps
Shops
Leveling
Accessories
An epic boss fight
▶Server Settings◀
pvp=false
enable-command-block=true
gamemode=2
▶Chinese Version◀
You can download and play the map in Chinese. It can be a cool experience if you are learning Chinese, or you just want to see what it is like to play in a different language.
Download the Chinese version here: http://forum.gamer.com.tw/C.php?bsn=18673&snA=127089&tnum=1
Thanks to all these people for making the Chinese translation possible:
Audiace - translation, contact with map author: https://twitter.com/Audiace0809
小坤 (Kyob) - MCedit filters, translation: https://www.youtube.com/channel/UCUIMdhCN7mFM0BSbwfsr8Qw
Mr.P - language pack and unicode numbers font: https://www.facebook.com/MRPCHANNEL?fref=pb&hc_location=profile_browser
水狼 (Mizuokami) - translation for equipment and mob names: https://www.youtube.com/user/mizuokami0417
▶Other Info◀
Found a bug? Have a suggestion? Just want to chat? Email me at: [email protected]
Help me make maps by funding me on: patreon.com/NateT_Bird
Watch the behind the scenes for this map on my Youtube channel: youtube.com/user/NateTBird
I post sneak peak screenshots of map projects on Twitter @NateT_Bird