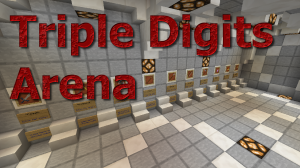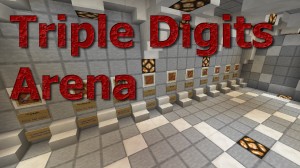 ▶Trailer◀
▶Important Information◀
If you are recording this map for YouTube please provide the following information in the video description (copy and paste if you want):
Map Author: NateT_Bird
Map Download: http://www.minecraftmaps.com/game-maps/triple-digits-arena
▶Map Description◀
Kill 100 monsters in each arena to progress. First you select the arena then you select your class. Each class has it's own unique skills and strengths. If you die before you are able to kill 100 monsters in the arena, you will have to restart that arena. There are 10 arenas, 10 classes, and 4 difficulties which makes for over 100 different ways to play. The in-game tutorial should give you all the info you need.
▶Server Settings◀
Make sure each player downloads and uses the custom resource pack. Set the following settings in the server.properties file:
pvp=false
enable-command-block=true
gamemode=2
▶Other Info◀
Found a bug? Have a suggestion? Just want to chat? Email me at: [email protected]
Help me make maps by funding me on: patreon.com/NateT_Bird
Learn about map making on my Youtube channel: youtube.com/user/NateTBird
I post sneak peak screenshots of map projects on Twitter @NateT_Bird
Thank you for your continued support.