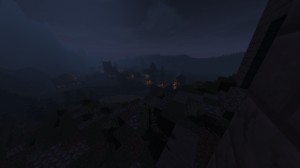 Night is coming. Hide, run, survive…its all you can do before the undead find and kill you.
This map, inspired by Hypixel's "Vampirez" was made to be a good and suspenseful experience. The map is entirely vanilla – just download and boot-up the world and get your friends to join.
MAP FEATURES
Gameplay
Kill count rewards
5 Players = 2 Undead at start; 10 Players = 3 Undead at start
Custom items
Undead can spawn mobs
Survivors have a flaming sword ability
Map
Many houses - Tons of hiding spots
Abandon Mine
Caves
Main Lobby & Undead Spawn
Plentiful hiding spots
RULES & WARNINGS
1. Do not spam-click the signs, the system will break.
2. Don't use any hacks.
3. Do not abuse any bugs.
4. Don't log out in combat.
RECOMMENDED SETTINGS
Command Blocks: ON
Allow Cheats: ON
Minecraft version: 1.17.1
Player count: 2+
CREDITS
Main Credits:
Map creator: Kahlzara & Dani4355
Playtesting: S404S, NickTheDroid, FestiveMedico, Giantjak24